I have known Amber Wells for a very long time. I knew from the onset that real disciplinary spankings are what she really needed in her life. I was fortunate enough to create a bond pretty much from her very first spanking from me. This bond and trust grew so she feels comfortable enough to let me share her real punishment spankings with all of you. Watch her surrender to the things she feels are holding her back. Watch hertake a heart felt journey into self- forgiveness that is amazing in it's own right just to watch!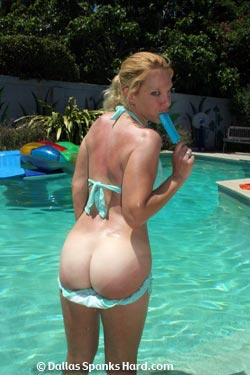 When my friend showed up a few months early for a scheduled shoot. I had told her that tan lines were expected. Since it was still not bikini weather back East. She was only to happy to oblige me with a relaxing ( yet nervous ) float in the pool. I interviewed her as she lied face down I covered what she was here for...or thought she was here for. When I threw her a curve ball as what her spanking was really for. You could see her nerves heighten. She knew she was "IN FOR IT". She was ready for the TEARS she knew would come... and quickly at that!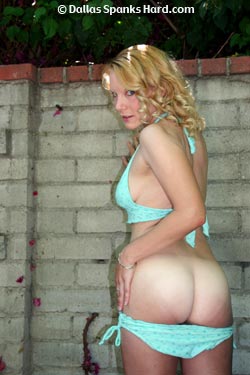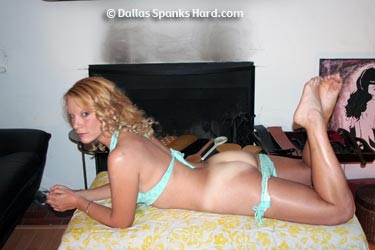 I scold her at the pools edge as I drag her out of the water. Pulling down her bikini I march her inside allowing you the full view of this bare bottomed march. She sits on the sofa...still bare bottomed. I tell her to think about things carefully. She does as I see her start to tremble. I arrive for a sit down scolding and understanding session. I start hard after taking her over my knee with my hand. This produced tears almost immediately. I have various wooden implements layed out in front of her. She hands back each to me. There are 6 implements that I blister her with . Tears and loud cries form almost every spank. I told her I would make sure she had a brand new box of tissues for her tears. She said " Tears are HOT...Snot is NOT" This made me smile. I later have her lie down on her tummy and really give her a good one with some very special straps. You can actually hear her plead...." No more Dallas...PLEASE no more" I informed her that she still had a stand up paddling that needed to be given. I really drive the point home about my lessons we talked about. She embraced this punishment session. She was so exhausted and hungry at the end. We whipped up some special homemade chicken salad for her. She layed there on her tummy...bottom swollen and crimson. Yet, she had a smile from ear to ear. Was it the chicken salad ? Was it the spanking? I say it was a little of both.
Once again I show it is possible to film a real disciplinary session. One that is not canned...not scripted. Just a beautiful woman who needed my help.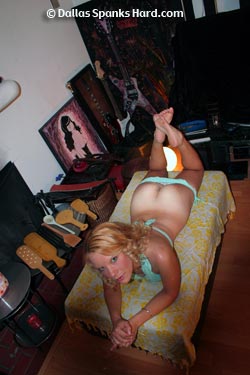 Here she waits seeing the implements she has to look forward to. She was so nervous in this photo!

This is a perfect TRUE to LIFE SPANKING that will warm your heart. IT IS A SEVERE PUNISHMENT THOUGH! Our PIXIE needs a NO NONSENSE approach to discipline to really LEARN a LESSON
THIS FILM HAS IT ALL!