Those of you who grew up in the 60's and early 70's saw many of your spanking fantasies grow due to the wonderful character of Sidney Sheldon's "Jeannie". Sabrina has been a life long fan of the show. I must admit that growning up I imagined taking Barbara Eden over my knee more than once! We have paid a tribute to that wonderful show in a VERY SPANKO WAY! We have even created some of the cheesy special effects and audio effects that will make you remember why you love the show.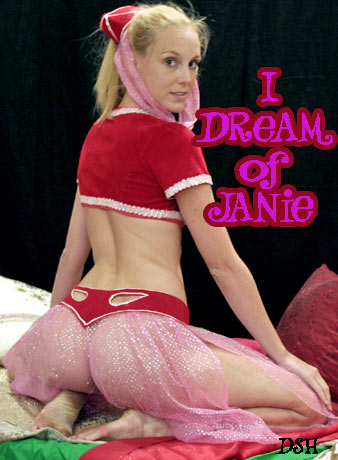 WATCH THE TRAILER
Amelia Jane Rutherford had not seen the show until the day we filmed. She is the only one we felt had the charm and quick thinking to take on the role. You will ADORE her as "JANIE"!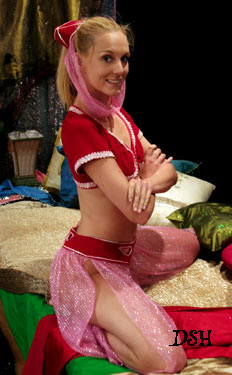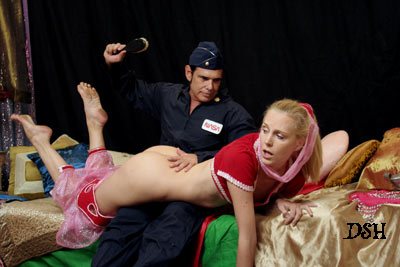 It starts off with the opening scene - "A Hot Cup of Janie" - and the Major (played by Dallas) asking for his morning coffee. He asks for it strong... but she serves it boiling hot! Since Janie admits she likes things "HOT", the Major was only happy to obilge! A serious OTK hand spanking takes place that leaves Janie promising to be a good genie.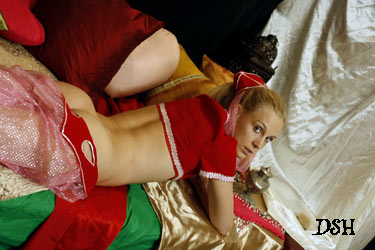 The Major then takes off for a meeting at NASA. When he returns, it is with a thick mustache on his face, decidely because Janie made the coffee much too STRONG! She meant to put in 'hair of the dog' but instead she added 'hair of the hare'! This caused him to grow the mustache in 20 minutes and in front of three Generals no less. The Major was furious! Another super hard hand spanking insues.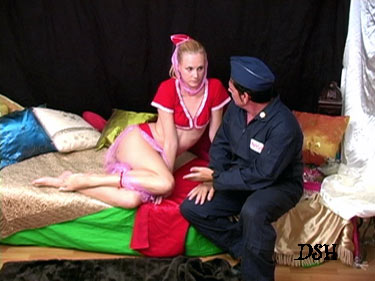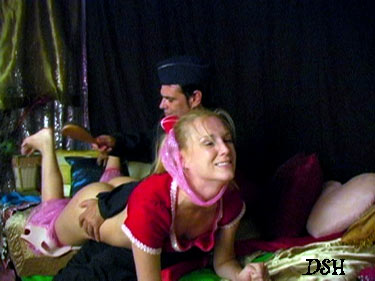 Cobra Basket master"! You will love this on as the cobra is charmed... and her bottom severely striped! Then on to the belt and tawse! Later that week, in "Who's Your Master", The major was picked for the Mars expedition but in order to qualify, he must go through a rigid physical exam. Janie felt she would miss her master too much, so she 'slowed him down'. A little too much - as his results came back that of a 98 year old, 300 pound smoker! Because of her BAD behavior. Janie must call for the "Cobra Basket"... " Oh not the SUPER SEVERE.

In "You're a Genie Janie", Janie wants to drive her masters car to be just like the other military wives. She takes his car and wraps it around a fire hydrant. The car was seen driving itself out on NASA secuirty cameras! Janie learned her lesson with a session with a hard ebony hairbrush. During her spanking, she is forced to blink in a new brush that Dr. Russell had given him. Some very hard hairbrush spanking follows!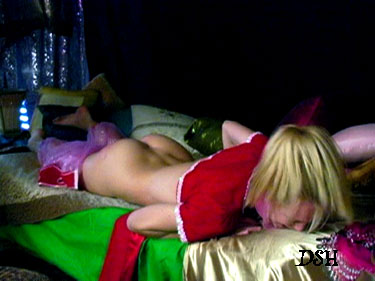 Finally, in "Janie's Travel Agency", Janie was warned about her jealousy, when in the past she had blinked a date of the Major's into the French Foreign Legion. She promised it would not happen again. And so, when a date from a year prior was found on a desserted island and her final recollection before disappearing, was arriving at the Major's house, he sits Janie down and reveals his discovery and told her of his plans for her punishment.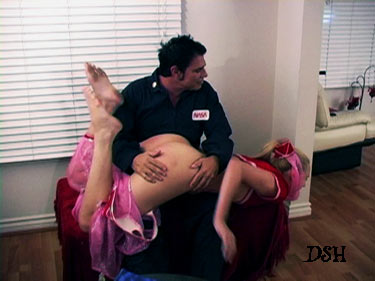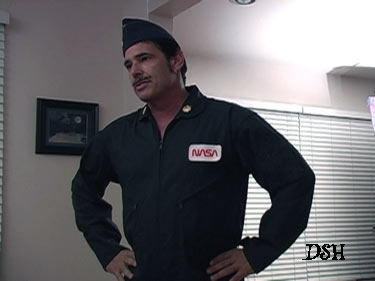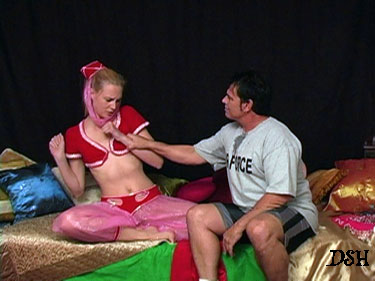 In a very severe session, gets the razor strap, the nasty rubber paddle and a HUGE wooden paddle that has her jumping in pain!
The is by far the funniest and yet SUPER SEVERE spanking film you will witness.
This very well could be the most special effects ever used in a spanking film coupled with the most severe spanking for Amelia Jane Rutherford yet!
Complete with an after interview!