This is a spanking punishment that had EVERYONE talking! The beautiful newcomer ( well she was she we shot ) Audrey Knight learns for the first time that SHE the Disciplinarian, would be spanked right along with her Spankee Abigail Whittaker! You might think... ah D will pull his punches and cut this first timer some slack. When wiser cracker Audrey showed up...I knew she was in for a SUPER GOOD ONE! I had no idea how GOOD a one this would be!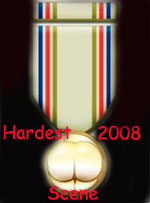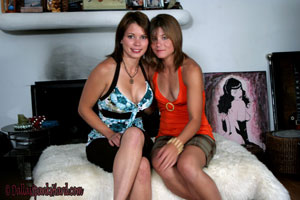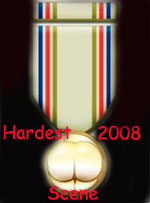 Her eyes widened as she watched the spanking Abigail got. It was really quite classic really. When it came time to drop her pants. That was when she realized " This is really happening" She was all day playing in the pool. Working on her tan lines ( Oh, I insist Audrey...wink) As the two cuties ate watermelon and shade themselves from the sun. I took her by the arm and matched her in...to experience what was to be on of the hardest spankings of hers or most people's lifetimes!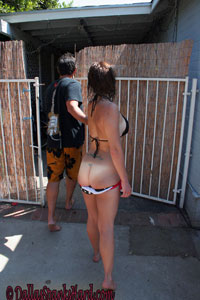 Going over my knee I felt her anticipation. She was tense... then accepting of her fate. I start of with the "E" and the timer. Man do I spank MS Knight. I mean I was sweating like a prize fighter! I started hard and kepy it hard for 3 sperate 3 minute spankings!
Then is a scene that my bud Brushstrokes just loved. I get out a very HEAVY long handked BATH BRUSH. I give her 3 minutes HARD with that heavy headed wooden brush! This spanking alone is worth the price of admission!
When her buns were swollen....when her tears moistened her eyes ... I MOVE ON TO LEATHER!

I line up my straps and like a machine... she gets a through BLISTERING from each one!
I chose no EASY implement... You can see that one of the straps was a HUGE antique Razor Strap. Another the BLACK and WHITE RAZOR STRAP I USED ON TIKI, SCARLET, RAVEN, JEWEL ,TANYA HIDE, ABIGAIL WHITTAKER, AMELIA JANE RUTHERFORD TO NAME A FEW.
SHE SAID OF ALL THE SPANKINGS...THAT STRAP HURT THE MOST. I WAS HAPPY TO HEAR THAT SINCE IT IS ONE OF MY OLDEST AND DEAREST FRIENDS!
THIS IS A 60 MINUTE VIDEO THAT HAS IT ALL! THIS ALSO INCLUDES HALF OF THE IN DEPTH 15 MINUTE INTERVIEW WITH THIS REAL LIFE SPANKING COUPLE! YOU WILL WANT TO WATCH THIS AGAIN AND AGAIN!