Ariel is in for a long night of painful spanking punishment....Talk about an untense strapping!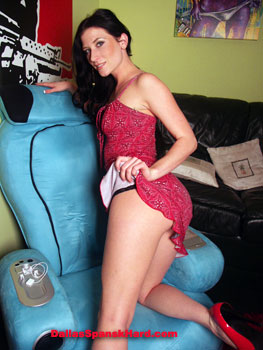 Ariel X seems to have a BIG Problem. That is she just can't seem to hold down a job for longer than a couple of months. REASON? She gets fired for not paying attention when her bosses give her assignments. She drifts off into her own little world... then says " HUH?" When her bosses say " Ariel....Did you do so and so like I asked you to?"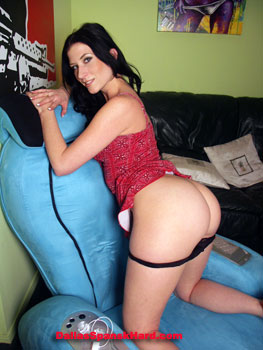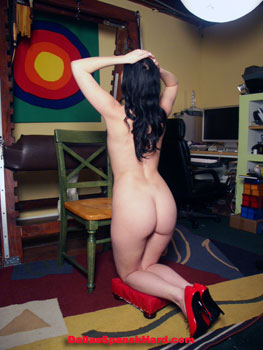 Some girls are just so cute and nice ( Ariel was one such girl ) I almost felt sorry for her. I SAID ALMOST. I sit her down and go over what the primary reasonsfor getting fired from the two last jobs . I decide to make a point of making her listen carefully to me by having her strip naked.
AFTER SOME NUDE TIME FACING THE DOOR...I HAVE HER GRIP EACH SIDE OF MY DARTBOARD AND HOLD ON TIGHT. I GIVE HER A SLOW AND DELIBERATE...THEN A FAST AND HARD PADDLING ON HER UNPREPARED BOTTOM. HER BOTTOM WHO NEVER REALLY EXPERIENCED A SPANKING LIKE THIS ( AND YOU CAN TELL ) TURNS A ROBUST SHADE OF CRIMSON!
Ariel finds out just what a REAL DISCIPLINARY SPANKING is!

I march her in as you enjoy a great site from behind! I have her kneel on a bench in from of a chair.. I then take her over my knee and give her a spanking with my hand that has her bottom so hot you could have happy hobos stand around her on a winter night.
What you see next will AMAZE any true disciplinarian! I have her lean across my horse naked and with great anticipation. She is really UNAWARE of what lies in wait for her bottom. When I give her the first lick with the strap....YOU SEE AN UNDERSTANDING IN HER EYES. She told me she would not cry from any sort of spanking when I first interviewed her. I hand down her sentence...I ADHERE TO EVERY LICK MUCH TO HER DISMAY!
33 minutes in length
With great outtake clips at the end!
You will never in your life have seen such a truly remarkable reaction to a spanking like this. Her bottom was on of those bottoms you DREAM ABOUT spanking! As SO many with that strap land. She wiggles, slams her feet against the floor. She shakes her bottom as if she could shake the intense burn of her bottom. Like an elephant would when a lion gets on it's back in one of those TRUE WILDLIFE FILMS LOL
This is one of the most true depicitions of naked discipline you will ever see! The most true reactions with TEARS GALORE!