45 plus minutes!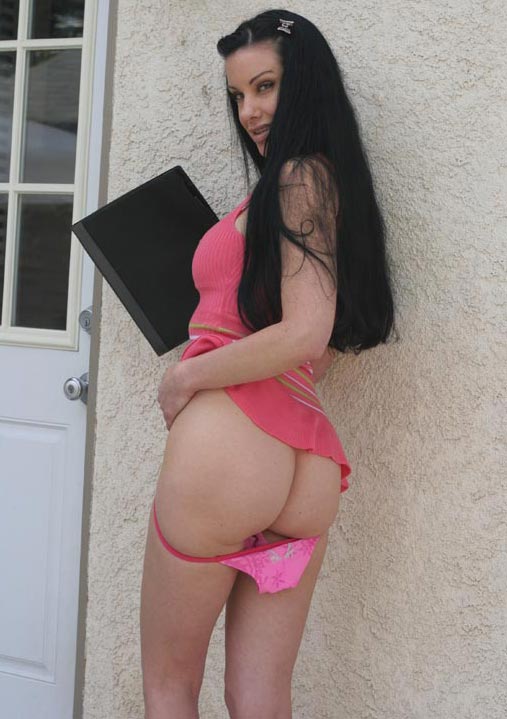 This is a story wherein a girl is lead down a VERY WRONG PATH by a 'bad boy' boyfriend.
Enter Zoey Doll. Seems little Zoey had been REAL BUSY. She and her boyfriend set up a ficticious realty company.'Fopir Realty'. The company and Zoey was brought to my attention by a parole officer that works with me on special cases. Since Zoey (even though her crimes were deplorable) had no prior arrests, she was sent to me. What were her crimes you say?...
Seems her boyfriend had a long wrap sheet for B&E. He had her go around to nice neighborhoods and offer free home appraisals. She would do a complete walk around, the whole time casing the place for valuables. Her boyfriend would come back at a later time knowing where and what the homes had to offer.
We had her set up to appraise my property that morning. It so happened that her boyfriend was arrested the same morning. She showed up unannounced and was walking around in my backyard. I confronted her and she felt it was "ok" to walk around someones property without announcement. It was then I knew our little Zoey was in for a long morning.
I suggested we move our meeting inside. She went over a checklist.... bedrooms... pool... etc. It was when she asked if I had a safe and when I questioned such that things really became clear. She reasoned that built in safes add value to your home. I decided then and there that Zoey's bottom was going to burn even more!
I told her that her lying was over and what had happened to her boyfriend. She had 16 counts of accessory to burglary and would face at least 4 years in lock down. I offered her my version of 'Scared Straight' by way of a SEVERE Disciplinary spanking.
What Zoey got she will always remember. My very great friend Keith Jones (you might have heard of him ) had just sent me a paddle he had made based on one of my favorites of the past. It showed up the day before her spanking... timing is everything!
I got out the vitamin e oil and started with 3 minutes straight with that paddle. I set her to the corner. She then got 3 minutes straight OTK with my hand!
I then gave her sets of fast & hard 1 minute spankings with my paddle-strap and a wooden bath brush!
I had her lie on her tummy and then gave her one minute each with my small and then large black & white razor straps. I spanked her hard enough that you hear a rivot break away from the small strap. Talk about great angles for this strapping!
Not done yet!... I had her bend over the back of a leather chair for another 1 minute each with my large wooden paddle and then huge plexi-paddle!
This is a PUNISHMENT EVERYONE WILL LOVE! Zoey deserved every whack!
45 Minutes in Length!