33 plus minutes!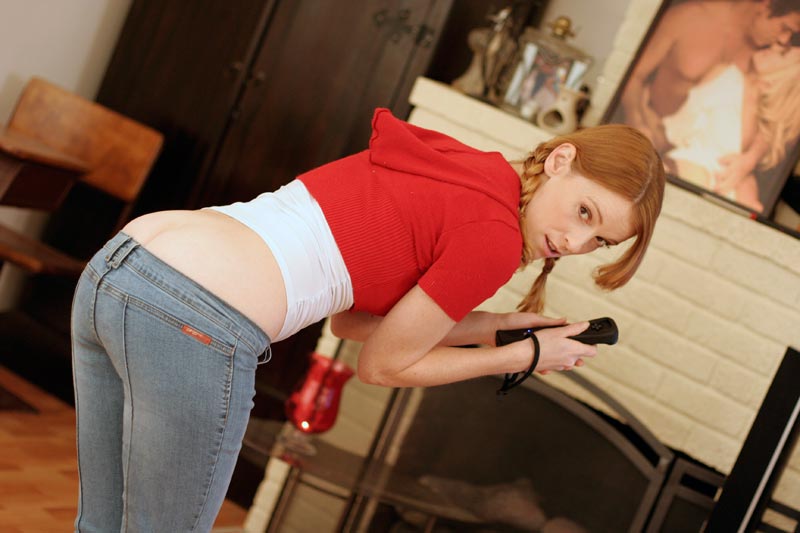 Nikki Rouge is a model of course. She is however much more than that! We consider her one of our dearest friends. It is not unusual that Nikki comes over sometimes to eat chips. karaoke or in this case play a popular video game. This one game involves a swinging motion that could lead to a bad day if the wrist strap is not attached to your wrist. When we decided that this is what we would do for fun. I went over my rules. Wear the strap at all times...or get spanked. It is amazing how most video playing women abide by this simple request. Nikki on the other hand seems to fly where she wants...and then gets in trouble for it! We decided to play 100 pin bowling...well, because Nikki was a little bowling champ in high school. She figured she would kick my ass without problem. It didn't get too far. You see Nikki after being lectured and warned about the strap house rules, forgot to attach it to her wrist. As luck ( or bad luck for her ) would have it, she lost a grip on the remote and sent it crashing through a rare red Lalique crystal vase. A vase inherited from a relative's estate.
I first have Nikki pull down her tight hip hugger jeans and provide her with a broom and dust pan ( I of course give her a resounding slap on the behind as I come up from behind to hand it off.)
You are now afforded an awesome view of 'little miss disobedient' as she bends over to sweep up the thousands of crystal shards from the wooden floor.
After cleaning them up... I get down to business.
After losing my previous timer to a depressed mind state ( Audrey Knight ) I decided to go for a digital timer.
I told Nikki she would receive (4) 3 minute hard spankings on the bare. That they would be hard...at that it was going to hurt a lot. She agreed wherein I take her over my knee and have her set the first 3 minutes on the timer...then press 'start'.
I give her a super hard spanking from the get go. I don't stop to talk...rub or console. I spank her. Gone is the laughter from her previos spanking. Now there are only yelps of pain as I burn her but good!
Soon another spanking follows...still hard...no stopping. These are the longest 3 minutes of her life. If I didn't know better. I would say the spirit of my previous timer was in this one. The 3 minutes seemed to last FOREVER.
By the third set she was hoarse from crying out and her bottom completely bruised.
I finish off with her flat on her tummy on the ottoman. 3 minutes of BOTTOM BLISTERING that leaves her spent!
I have a little after interview as she lies there with her buns on FIRE!
If you want to see a super cute girl getting her buns blistered for a real reason. This spanking punishment is for YOU!
33 Minutes in Length!