Joelle Barros- A tall German/Brazilian model gets a severe otk hand, hairbrush, rubber
paddle, intense razor and ruler straps!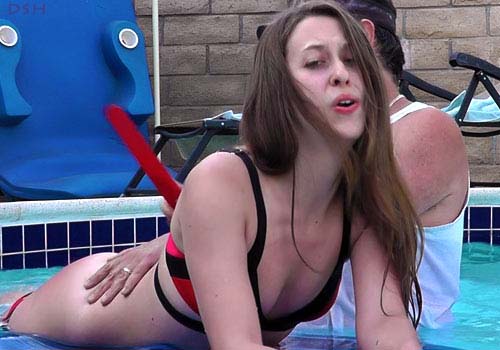 This beautiful half German, half Brazilian, five-foot ten inch model from NYC contacted me about shooting a real disciplinary spanking video. I gave her two orders before showing up. The first was to get tan lines...which she did. The second was to show up without marks...which she didn't. That made her marked for punishment on a special and very severe day!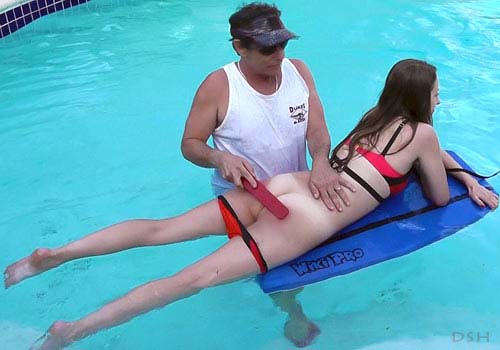 The first order of business was driving to Joelle Barros' hotel to address her disobedience. She seemed nervous as she greeted me at the door. I sat her down and had a chat, which lead to her showing me her tan lines...and her marks.
For this she was given a bare- bottomed spanking with my large hairbrush on an unprepared and unwarmed bottom. This was just the start!
When she arrived back at our place, I had her get into a bikini and lie by the pool waiting. Bringing out the rubber paddle as she was waiting in the pool, I use a boogie-board to keep her bare butt in position as I really blister this tall drink of waters' tan line encased bottom.
Afterwards I take her over my knee while sitting on the lip of the pool and thoroughly blister and bruise her bottom. You will love the shot of her walking inside knowing more punishment will continue soon!
What follows is hard, OTK spanking that makes the thought of more spanking afterwards almost intolerable to her. Her bottom is sore to the very touch. This does not keep her from getting extreme strapping with my two most severe razor straps. Her pleading, her facial reactions will tell you the whole story.
BUT THAT'S NOT ALL!
Joelle is put on an electronic surfing machine designed to work the surf muscles. If you don't think that watching a long legged model's firm butt jiggling as she is getting strapped with a nasty ruler strap while sucking on a pomegranate popsicle is hot...better check you pulse!
1 Hour & Twelve Minutes in Length!
In payment details- Make sure you include the email you want the download link sent to.