The sequel to 'Sophie's 'BAD' Choice' is here and man what a GREAT ONE it is! These bubble butts get HARD hand spanking, hairbrush, thick leather belt & tawse!
Starring Nikki Rouge & Sophie Nova!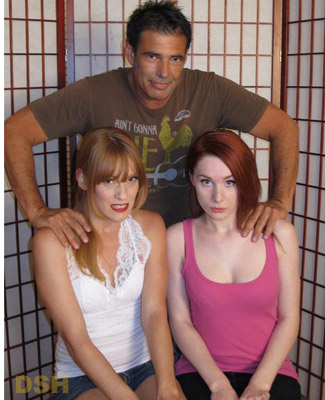 Sophie was visiting, as you remember, from the UK. She got into trouble and was sent to me for discipline. In this sequel both Sophie & Nikki get a SPECIAL DOMESTIC STYLE disciplinary session!
They went to Vegas and decided to get VERY DRUNK! That was their first mistake. They then went to a pool party called 'REFAB' or something like that. You see at this party they have a bunch of naughty girls like themselves getting into trouble, with a lot of men that have more money than sense.
When Sophie saw a menu that offered a magnum of Cristal champagne and thought she saw 150.00 as a price, she ordered it. Well the pool girl brought the bottle and uncorked it. She asked them if they wanted to put the 1500.00 dollars (plus tip) on a tab.
Sophie told Nikki and they both panicked. Sophie decided in her drunken stupor that she would ask a man to pay for it. When he declined...she pushed him in the pool!
He got out angrily and walked towards her. Nikki then punched him right in the schnoz. They were taken to the security lock down area and asked how they planned to pay for this now open bottle of champagne.
Steve the facility manager didn't want to press charges. He just wanted his money.
This is when Nikki said "I know a guy who will pay for it! His name is Dallas." I got a call and Steve explained the situation. I paid for the bottle and asked to speak to Nikki.
"Both of you come straight here....NOW!" was all I said.
When they arrived they were sat down together. I scolded them and then listened to thier stories. I sent them both bare bottomed to the corner to think about what was coming. There, they got into a little shoving match, which got them both a hard smack and put back into the corner.
One at a time I took them over my knee. I started with SUPER HARD hand spanking, which made their bottoms SUPER RED & Hot. After a few trips each...
I got out my huge hairbrush supplied by my friend 'J'. This brushing got a lot of comments about how the sting continued to burn long after the swat from both of them.
After a few trips... off came my belt through the belt loops with that familiar 'whhhiiizzzippp' sound.
They were both whipped severely with the belt as they cried out and promised to be good!
To finish of RIGHT, I had them face and hug each other and move in a slowing circle in what I call 'my rotisserie blistered rump roast method'. YOU WILL LOVE THIS!
Special features include MANY outtakes, a special added Face cam segment. Last butt... not least. Nikki Rouge does a little karaoke of 'Pour Some Sugar On Me' as she pulls down her shorts and dances with her 'cherry red' bottom!
AWESOME!
69 Minutes in Length!