Amelia Jane Rutherford was first approached by me
on a mainstream modeling site. Call it spankers intuition...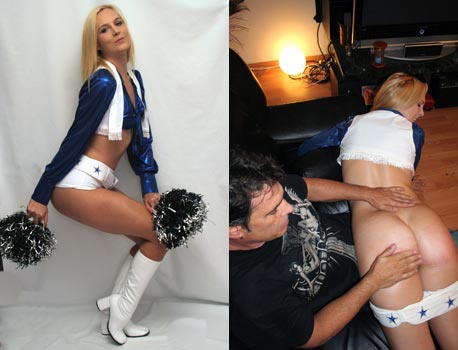 butt I somehow knew that a look in those eyes said " I
need spanking in my life...find me"
We conversed for months, as I filled her in on the scene. I even
gave her a membership in which she confessed watching quite
ravenously.
Sometimes you will meet a woman who is so special...who
you can connect with on a disciplinary plane. One who will trust
you to punish her for real reasons...even on video.
This is a video that has the hot storyline of a Pro
cheerleader tryout. My favorite team. A private
confession. Then a real punishment within a spanking video.
Amelia Jane wears the Dallas colors so well you will need
a sweat towel just looking at her ...no joke.
When she does a bare bottomed cheer routine as I switch
her naked cheeks as the sway. When I use the plex cane
that gets reaction and her unability to stay put.
Her tear filled otk session with the vitamin E oil saturating
her firm amazing bottom.
The way she reacts to the plywood paddle otk.
Her on her knees accepting the ruler strap grabbing the
chair with all her might!
The hard strapping she gets ( again with E) ending with
my severe razor strap!
Lastly putting her in position with her hands on her
knees for 10 swats with the large paddle. The swats
have her falling to her knees....until I hold her
firmly in place.
As she cries into my chest as I conclude her punishment
you will know you have witnessed something VERY
special!
THIS IS 60 MINUTES OF INTENSE SPANKING
If you miss this one...you will be missing probably
the one video that has it all!
60 MINUTES LONG